Bloghop: Gratitude in Uncertain Times
I loved the post that Liz from In Omnia Paratus wrote on Friday, and definitely wanted to add to the positivity. I'm grateful that….
I still work. My company has been great about helping all of their employees out while we go down to essential personnel. Even though my job can't really be done from home, we've figured out things for me to do at home so that I can still work and still bring in a paycheck.
My animals. Choco, Amber, Whisper, and Kahlua don't know anything about what's going on, and keeping up with their routines has definitely helped bring more normalcy to this situation. I still get nickers from the horses, squeaks from Kahlua, and tail wags from Choco whenever I see them, and I'm so grateful that I still get to spend so much time with them everyday.
I am very glad I still have a place to live, countless books to read, and plenty of streaming shows to watch in my free time. Maybe I can make a dent in those 2,000+ ebooks I own….? haha I'll probably make more of a dent in the TV shows/movies that have been on my list forever.
Everyone in my family and my very close friends are safe. They all also still have their jobs too, which is a relief. I still see them a lot of the time – especially my parents since they have the horses on the property – but considering my parents are older I'm glad I get to make sure they're alright!
Spring is bringing lots and lots of rain to Vegas, which is very needed! Usually, we have one or two really heavy rainstorms that create a lot of flash flooding, but this time we've had multiple rainstorms over multiple weeks that have dumped water without flooding. It's even made a lot of grass grow at our place, which is perfect to get the horses out to graze for a few minutes.
Also so grateful for this blogging community – you guys are the best!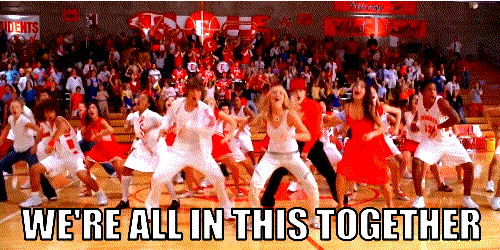 Too much? LOLOLOL Stay safe and healthy everyone!