Shutting Down Vegas
It has certainly been a very quick, interesting couple of days. A lot has happened in a short amount of time, and a lot of us are reeling.
Tuesday night, the Nevada governor issued a "close all non-essential businesses" directive for 30 days – casinos are directed to completely shut down, and other places had to shut down no later than noon on Wednesday. Essential businesses such as grocery stores, police, fire department, hospitals, etc, are still running, but only to essential personnel.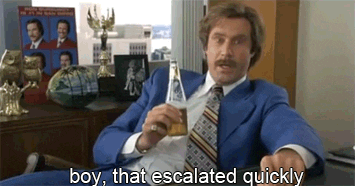 The directive went out at 6 pm Tuesday night, so I rushed over to our feed store to get food for Choco and hay for the horses since we wouldn't know if our feed stores would be considered essential or not. We didn't have a 30 day supply of food for the horses, so I ordered just enough to get us through. Thankfully, our feed store is still delivering hay for orders, which eases my worries on that matter. Our vet office closed their doors, but it looks like they are still open for emergency needs.
I'm worried for everyone here. Vegas runs on hospitality, and practically all of hospitality is closing. Schools have closed, but thankfully the teachers are still getting paid. UNLV students living in the dorms had to pack up all their belongings and go home. People are dressing as Nevada Energy workers and robbing people for food, water, and money at gunpoint. When I went to my grocery store right around the corner, there was a team of policeman – one manning the parking lot and the other the store. There were more than 600 people "in line" to get in when Sam's Club opened. Which totally defeats the purpose of social distancing and staying in your homes, but I digress. People have been taking so much from the grocery stores that the seniors can barely get anything for themselves, so some places like Target are using their first hour of business for seniors – and they're checking IDs to make sure the age is correct.
The streets have less cars on them than ever. As I was driving home Thursday night, it was really disconcerting to see practically no traffic when the streets are usually inundated with cars. With everything going on, hopefully places will be understanding about bills and people won't go into a bigger panic than they already are.
My office is down to essential personnel too, so while there's not any in-office work that I can do from home, there's still a lot of extra training I can do so that I'm not just using up my PTO. So as of next week I'll get a little bit of an unplanned "vacation." This does mean more horsey time, so I am glad I'll still be able to ride, and I'll take care of ponies as always.
Despite things going a little crazy around here, I'm taking this opportunity to find the positives. I'm okay, my family and close friends are okay. I am extremely lucky that my work is fabulous with its employees, and they're supporting all of us. So in this time that I am not going work, I am going be positive – finish up my final paper for my class early, go see the horses more since I'll have daylight to do so, start those YouTube yoga or fitness videos I keep saying I'll do but haven't yet, really clean my place, catch up on any adulting things I may have fallen behind on, and keep eating healthy since most of the grocery stores still have all the healthy food haha. Obviously I'll be working as well, but not needing to be at the office for 10 hours at a time will allow me to do more in the long run.
I am sad Kentucky needed to be cancelled, but I am letting my tickets roll over to next year since I do want to go. I thought about just getting a refund for a while, but since I want to go next year, I decided to just let them roll over. I understand what a huge hit they're taking this year, especially since they're non-profit. Hopefully next year they'll have really awesome attendance, and I think they will. I was really looking forward to seeing my grandma and hopefully meeting some fellow bloggers after Kentucky, but that can always wait until later when things aren't so hectic.
If you could, please keep Vegas in your thoughts! I hope you guys are doing alright this week!